Trusted by 1000's of companies!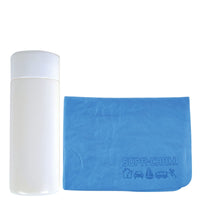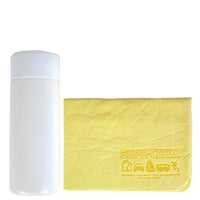 Supa Cham Chamois in Tube
Sale Price

$5.97

Regular Price

Unit Price

per
Synthetic pre wet chamois with rounded corners packed in 2 piece White PVC tube. Chamois supplied with "Supa Cham" debossed logo as standard. Store Supa Cham in Tube when moist/ damp to ensure longevity and reusable application on cars, boats, vans and bodies.
Category: Auto Accessories
Materials: Chamois: Synthetic; Tube: PVC
Collection: Home & Auto
Item Size: Chamois: 425 x 315mm (LxH); Tube: 175 x 55 x 62mm (LxHxD)
Print Areas: Pad Print (Max 1 colour print): Flat Side - 80 x 23mm (LxH), Curved Side - 80 x 20mm (LxH); Digital Label: Curved Side - 125 x 60mm (LxH); Screen Print (Max 1 colour print): Flat Side - 120 x 30mm (LxH)
Carton Size: 59cmL x 32cmW x 37cmH
Carton Notes: Decorated Orders: Chamois are inserted into tubes Undecorated Orders: Chamois and Tubes are supplied separately Chamois: 240 per carton, 18kg, 49.5cmL x 37.5cmW x 49cmH Tubes: 100 per carton, 4.5kg, 59cmL x 32cmW x 36.5cmH
Keywords: car,cleaning,embossed,gym,LD404,LD404s,LL404,LL404s,travel,washing